In much earlier times, horns were very basic instruments and were, indeed, little more than brass tubes wound a few times with a flared opening. These early types of horn were frequently used on hunts for calling in the dogs because the tone produced could be heard over a greater distance than the human voice.
These early horns would be commonly found pitched in various keys – for example in the keys of E, E flat, F, B flat, and C. Owing to reasons explained in more detail in our introductory horn section, the only notes available to the player were those based on the harmonic series of the single note. Accordingly, the only way that the player could claim different key structures was to insert an extra length of tubing known as a crook (shank). When the player inserted a crook, it altered both the tube length and the pitch of the instrument.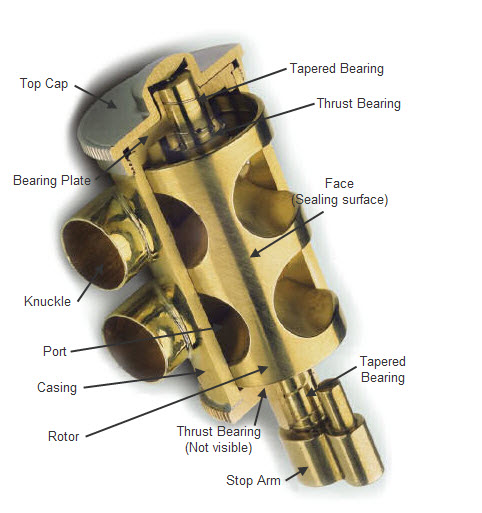 In the early 19th century, François Périnet revolutionized the horn, firstly by the use of pistons then later rotary valves (right). At first, the main value of this was of course to get away from the clumsy practice of having to change crooks during the music. More importantly, this use of different types of valves offered a much greater degree of flexibility when playing in different keys; the full use of valves rendered the horn capable of producing the full chromatic scale for the first time.
This greater flexibility was soon reflected in the works that composers created for the instrument. The horn was no longer limited to the fundamental notes of the harmonic series and this allowed the horn player to play more emotively and utilise chromatic passages. Some horn players, however, still prefer to use a natural horn especially when playing in the kind of ensemble that seeks to recreate original, old styles.
By the end of the 19th century an additional practice became well established. A player would insert their right hand into the bell of the horn in order to change the pitch of the notes. This change in pitch could be by as much as a full tone. The result was to give the horn player even greater control of their instrument. Read more about the range of the French horn.