The French horn has gained a new level of recognition and respect in the contemporary jazz scene. This is largely thanks to the work of many talented players who have pushed the boundaries and made us realise more of what is possible on the instrument. These French horn players have not only expanded the French horn repertoire (particulary in the field of jazz music) but they have developed new techniques which in turn have added a depth and richness of sound. The appeal and audio experience for the listener, therefore, is now stronger than ever before.
Contemporary Jazz Leading Horn Players
Prominent horn players who have contributed to this development include John Clark, Adam Unsworth, Tom Bacon, Tom Varner, Vincent Chancey and Mark Taylor. Thanks also to others like Jim Rattigan, Richard Todd and Giovanni Hoffer, the French horn has now cemented its place as a legitimate voice in the jazz world. These players have proven that the French horn is capable of much more than just classical music and their innovative and inspiring work continues to influence and inspire future generations of jazz musicians.
Here are some of the most notable jazz French horn players:
Julius Watkins
Watkins moved to New York City in 1950 to study at the Manhattan School of Music where he worked with Milt Buckner's group. However, Watkins felt that he wasn't properly integrated into Buckner's arrangements. Despite continuing to record with notable artists like Thelonious Monk, he was no longer satisfied being a sideman. This resulted in his form the Julius Watkins Sextet in 1954 with Watkins playing French horn, Frank Foster on tenor sax, Perry Lopez (guitar), Oscar Pettiford (bass), Kenny Clarke (drums) and George Butcher (piano). They recorded nine tracks on two albums for which Watkins contributed many original compositions.
John Clark
One of the most important French horn players in jazz after Julius Watkins is John Clark. Clark has performed with a wide range of musicians including jazz legends such as Herbie Hancock and Dizzy Gillespie and has recorded numerous albums both as a leader and a sideman.
Adam Unsworth is another prominent jazz French horn player who is dedicated to commissioning and performing works written by contemporary composers. His recording "Balance" features French horn, jazz quintet and chamber orchestra. Arrangements of Unsworth's own compositions feature.
Tom Bacon is considered one of the founders of modern jazz French horn playing. His album "The Flipside" features solo jazz French horn.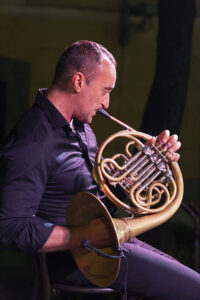 Tom Varner – Studied under Julius Watkins in the 1970s. After working with many notable jazz musicians and groups as a sideman, he went on to form and lead his own group. He continues to both compose and record on French horn.
Vincent Chancey played as a sideman on over 150 recordings before recording his own jazz albums. His first was entitled "Welcome, Mr. Chancey" and comprised a quartet featuring Chancey on French horn with electric guitar, bass, and drums.
Arkady Shilkloper has mastered extended techniques for both the French horn and the alphorn. He has released numerous albums and has collaborated with many artists, including the Moscow Art Trio and the Vienna Art Orchestra.
Giovanni Hoffer is an Italian french horn player who has recorded and performed with a wide range of jazz artists including Quincy Jones, Pat Metheny, and Stan Getz. Hoffer also has extensive experience as a classical hornist including playing the Wagner tuba at La Scala with Zubin Mehta. In 2020 we were delighted to enjoy an exclusive interview with Giovanni Hoffer. Entitled "La Scala Wagner tuba To Gershwin Jazz Horn" it gives a fascinating insight into the world of a top French horn player. It also includes two fantastic videos of Giovanni performing on jazz horn (including one with pianist Alessandro Altarocca, winner of the Monte Carlo International Jazz Soloist Competition).