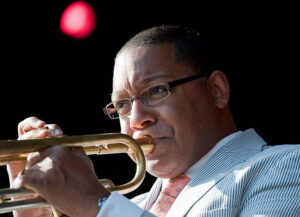 Throughout the history of music there have been many influential and talented trumpet players who have left their mark. Indeed, some players have become iconic figures in their relative musical fields and will be remembered long after their playing days are over. We shine a light on a few of the most interesting and influential figures in trumpet history.
Louis Armstrong (1901-1971) – Known as the "father of jazz," Armstrong was a pioneering trumpet player who revolutionized the genre with his innovative solos and improvisational style. He was also a skilled bandleader and singer and his contributions to jazz music continue to be celebrated even today. You can see a more detailed profile here (iMDb) and there is a classic performance of Louis Armstrong with Duke Ellington on the Ed Sullivan Show in 1961 here.
Miles Davis (1926-1991) – One of the most influential figures in jazz history, Davis was a master of the trumpet who helped to shape the sound of the genre over the course of a long and illustrious career.
Many believe that Davis helped to define jazz fusion and develop modal jazz. His music was remarkable for its innovative use of harmony and rhythm, as well as a  unique approach to improvisation.
Check out the Miles Davis official YouTube Channel to watch and hear some of the best jazz trumpet playing ever recorded.
Dizzy Gillespie (1917-1993) – Gillespie was a virtuosic trumpet player and bandleader who played a major role in the development of bebop and modern jazz. His style was marked by its technical proficiency, harmonic complexity, and rhythmic intensity, and his influence on the world of jazz continues to be felt today.
Rafael Méndez (1906-1981) – Born in Mexico, Méndez was a virtuoso trumpet player who was renowned for his technical skill and virtuosity. He performed extensively throughout his career, and his recordings and performances continue to be celebrated for their brilliance and virtuosity.
Maurice André (1933-2012) – A French trumpeter, André was one of the most renowned classical trumpet players of his generation. He was known for his virtuosity, his lyrical playing, and his innovative interpretations of classical repertoire. He rose to international fame in the 1960s and 1970s with a series of recordings of baroque works on piccolo trumpet. André had over 300 audio recordings to his name, from the mid-1950s to his death.
Adolph Herseth (1921-2013) – Adolph Sylvester Herseth (known by many as Bud Herseth) was the principal trumpet player for the Chicago Symphony Orchestra for over 50 years. It is widely acknowledged that his trumpet playing helped to define the sound of the orchestra. He had an incredible range and technical prowess on the trumpet and his contributions to the world of classical music are celebrated to this day. You can read the celebration of Herseth's work on the Chicago Symphony website here.
David Mason (1926-2011) – A classically-trained, English trumpet player, David Mason was a renowned orchestral and session musician. He studied at the Royal College Of Music in London and went on to become Professor of Trumpet there for thirty years. Such was his influence that the College has a 'David Mason Prize For Orchestral Playing'. Mason's notable achievements iinclude:
In classical music – playing flugelhorn (including 2nd movement solo) at the World Premiere of Ralph Vaughan Williams's 9th Symphony.
In popular music – playing solo piccolo trumpet on the recording of the Beatles' song  'Penny Lane'. The story behind how his involvement with the Beatles came about is told by David Mason himself in this interview ….
Wynton Marsalis (b. 1961) – A modern-day virtuoso, Marsalis is one of the most skilled and celebrated trumpet players of his generation. He is a master of both classical and jazz music, and his performances are known for their technical brilliance, expressive power, and musical depth. Marsalis has won 9 Grammy Awards and his "Blood on the Fields" was the first jazz composition to win the Pulitzer Prize for Music. He has the distinction of being the only musician to win a Grammy Award in both jazz and classical during the same year.
The trumpet has proved itself an essential instrument in countless genres of music, from jazz to classical to pop and beyond. The history of the trumpet is a unique story as are the many amazing players who have pushed the boundaries of what is possible on the instrument.