In August, we enjoyed the privilege of an exclusive interview with Molly Norcross who offered a fascinating insight into her life as a top horn and Wagner tuba player during lockdown. A former Juilliard School student and now Associate Principal Horn with the Cincinnati Symphony Orchestra, Molly promised to let us know when she took to the concert stage again. True to her word, we are delighted to publish her account of what it has been like rehearsing and performing once more with her colleagues in the CSO. It is an account that everyone who enjoys live music should read, for it reflects an inspiring and impressive sense of dedication.
Returning To The Cincinnati Symphony by Molly Norcross
"Performing groups worldwide have been adapting to the ever-changing needs for performer and audience safety this season, and the Cincinnati Symphony Orchestra is no exception. We are very fortunate to be able to return to making music together and reaching audiences, though the format looks decidedly different from anything we've done in the past.
I'm so excited to be able to make music together with my colleagues again, even though we are facing interesting new artistic challenges in order for everyone to be as safe as possible!
The backbone of the fall is a series of 7 livestream concerts, including 4 symphonic programs and 3 Pops programs. These are broadcast live on the CSO website, Facebook and YouTube, as well as being projected in various outdoor venues in Cincinnati.
The remaining CSO streams are October 24, November 21, and December 5. Upcoming Pops streams are October 31, and December 12.
Maintaining Safe Distances On Stage
Akin to many orchestras currently putting on programs, we are spread out widely from one another on the stage to maintain safe physical distances.
String players are six feet apart, all one-to-a-stand and always wearing masks.
Wind and brass players have the additions of plexiglass shields in between us and are separated by twelve feet front to back.
This arrangement means significantly smaller numbers of musicians are involved than usual and the whole setup is actually facing backwards on the stage to help with acoustics and visual components!
Wearing A Mask As A Horn Player
Wearing a mask while playing isn't possible for us wind and brass players, but we pull them up during long rests in the music and whenever we aren't playing during the rehearsal process. Initially it felt a little strange, but it's become a habitual action for me already! To make things a little more fun, we have special mask prints representing the famous rose window at Music Hall and bright red for our iconic Pops concert garb.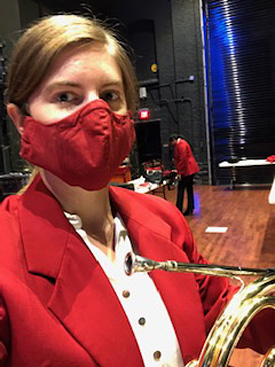 New Health Protocols – Handling Sheet Music etc
In addition to learning and abiding by the health protocols – how to handle sheet music, where we can unpack our instruments and the directions for getting on and off stage – we are all adapting to the new artistic requirements of the job, such as:
anticipating like crazy when we are sitting 50 feet away from the conductor
trying to be aware of our neighbours when shields and distance limit our ability to hear
playing right after removing a mask, when your face is all swampy and sweaty
having a big camera lens ominously pointing at you while you're performing!
Musicians are some of the most creative, tenacious, passionate people out there, so I know that we will persevere and bring great music to our communities and our world.
Please check out the CSO website for live-streams and updates on other symphony activities."