Thanks to the dedication of many horn players and teachers, students of the instrument have been able to continue learning their craft in recent months. A good example was the recent Horn Masterclass by Molly Norcross and featured on YouTube. Helping horn students continue their studies forms part of the next interview in our series of 'On The Trail Of The Lonesome Horn'.
Today we are delighted to hear from Tren Cheshier, hornist and Wagner tuba player from the applied faculty of the Cleveland State University School of Music. He is also well known in Cleveland for his role as principal horn with the Heights Chamber Orchestra (see our special feature from 2019 in Wagner Tuba News).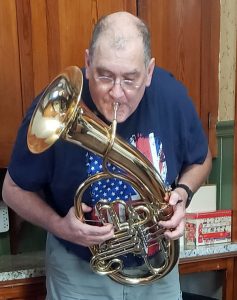 Here is what Tren had to say about what he's been doing these last few months …..
Online Classes For Horn Students
"Like so many musicians my playing work has all vanished. Fortunately, I've been able to spend a lot of my time teaching my regular horn students over the Internet. As well as being on the applied faculty of The Cleveland State University School of Music, I am also Horn Consultant to the band program of the Shaker Heights City School District.
The horn students that I've been teaching online are some of my private students from grades 5-12. Many of them really enjoy the Wagner tuba. Before lockdown, I would occasionally bring it into class they and they would enjoy having a go at it! It's been good to see them every week.
Frozen Valves & New Music For Wagner Tuba
My last public performance on Wagner tuba was in early 2019 (The Edel Rhapsody with the Heights Chamber Orchestra). So, when lockdown happened, it was a good opportunity to get the instrument out again. It had been a while and I have to admit that both my playing and the instrument were a little rusty! Even the valves were stuck!
As all horn players know, if any newish rotary valve instrument is seldom used, it will be prone to frozen valves. To resolve the valve problem in my Wagner tuba I oiled the valves both under the cap and in the back. I let it sit for a while and then used my thumb and forefinger to gently turn the valve from the back. This helped to avoid broken strings. Once I got the valves unstuck I played through the Rhapsody and was surprised to find that it was still in my memory!
Since then I have started playing other music for Wagner tuba. I decided to learn Jan Koetsier's Skurrile Elegie über Richard Wagner op.86 Nr.2 for Wagner Tuba and String Quartet. It took a lot of Sherlock Holmes sleuthing to find the music I can tell you! I like the Koetsier piece very much and I hope to be able to play it with strings once we're allowed to safely get together again. I've also been enjoying two other pieces by Gary Bachlund and Randall Faust for solo Wagner tuba with piano.
In between playing, The Berliner Philharmoniker's Digital Concert Hall has also provided some great enjoyment. Sublime!
Princess, Feline Friend Of The Wagner Tuba
At home we have 6 cats (Princess, Bob, Mango, Doris, Hazel and Soapy) and 1 dog (Rey). Whenever I am playing music they are never far away. Princess is the oldest cat at 13 years of age. She has one eye and lives in my studio. She really seems to enjoy being around both my horn and Wagner tuba! Princess is known to my horn students and they get to earn Princess treats by doing anything particularly well.

Rey too is very chilled about the horn and Wagner tuba – that is, unless it's played very loudly.
If it gets too loud he will retreat to a safe distance! He's a bright boy.
As for any other free time I've had, like many housebound musicians these last few months, I've found myself doing more than my usual share of helping with DIY projects around the house. My wife Lisa is the queen of DIY!
My message to all music fans at this time is please support your local freelance musicians any way you can."